What are Chests in Scrabble Go?
Chests are rewards that can contain many different items like Gems, Tile Cards, and Arena Tickets. They can be earned by leveling up, playing classic games, competing in tournaments, and more. They can also be purchased from different Bundles in the Shop that contain a certain rarity of Chest.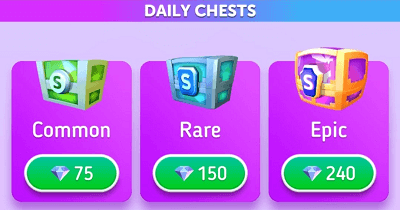 The daily chests in the shop rank from Common, Rare, then Epic. The Common contains up to 51 Tile Cards, the Rare contains up to 87, and the Epic contains up to 140. Then there are Daily Points Chests. These are earned by scoring points in classic games throughout a 24 hour period.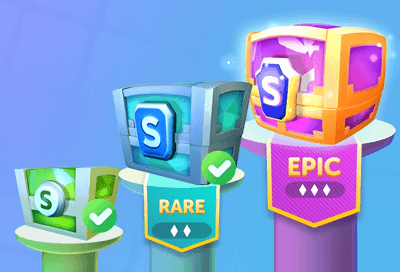 The first chest requires 125 points and contains 4 to 10 Gems, up to 13 Tile Cards, and up to 1 Arena Ticket. The Premium Points Chest requires 250 points and contains 8 to 16 Gems, up to 19 Tile Cards, and up to 2 Arena Tickets. The last one called the Royal Points Chest requires 375 points and contains 18 to 28 Gems, up to 40 Tile Cards, and up to 3 Arena Tickets.
There are also other various chests that have specific rewards. One of which is the Gem Chest which only holds Gems. Then there are the chests like the Ice Cream Chest and Floral Chest. These contain Tile Cards for tiles related to their name.

For example, to create the Mint Chip tile you need the Mint, Chocolate Bar, Sugar Cone, and Ice Cream Scoop Tile Cards. These can all be found in Ice Cream chests during special limited-time events. To view which tiles are made with which chests head over to the Tiles Inventory.
Another way to earn chests is by playing in Arena Tournaments. Winning tournaments can lead to a really nice prize. But that's not at all. You can also obtain standard chests by completing the Scrabble Club challenges. However, if you subscribe and join the Scrabble Club, the chests will exclusively be upgraded.