What are the Tournaments in Scrabble Go?
The Arena Tournaments are special game modes where you compete with other players in your league. Each tournament lasts a specific amount of time to enter and rewards Trophies and prizes for the winners. Earning enough Trophies will put you past Promotion Zones to rank up in higher League tiers.
Currently, the League Tiers in Scrabble Go are Starter, Bronze, Silver, Gold, Platinum, then Emerald. Being in higher League tiers will award better prizes and update your League Frame of your tier. Depending on the placement in tournaments, you can earn either XP or Common, Rare, and Epic Chests specific to Arenas.
The first time you enter a tournament is sometimes free. However, to play again, you need to spend either an Arena Ticket or Gems. Arena Tickets in Scrabble Go allow players to enter in tournaments for free.
You can obtain Arena Tickets from Chests, purchasing bundles from the Shop, or by subscribing to the Scrabble Club. By subscribing, you will be delivered one Arena Ticket every day. As of right now, there are three different types of tournaments.
The Rush tournament is played just like regular Scrabble. However, it is only played by yourself. In this game, you have three minutes and ten turns to score as many points as you can.
Once either of those runs out the game ends. This game is fun if you are very good at playing offensively because it is good to set yourself up for high-scoring words.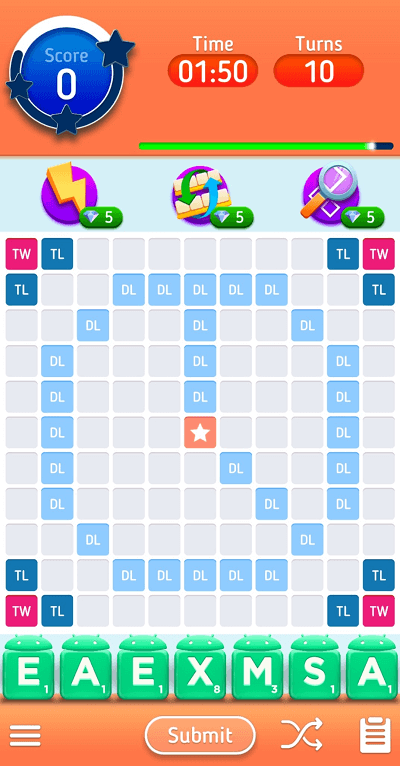 Another tournament called, Word Drop, is like a crossword-solving game where you try to find as many words as you can before time runs out. To create a word, you have to swipe the letters together and connect them. But, they do not have to be in a straight line. To really boost your score you can play longer or unique words to earn bonus points.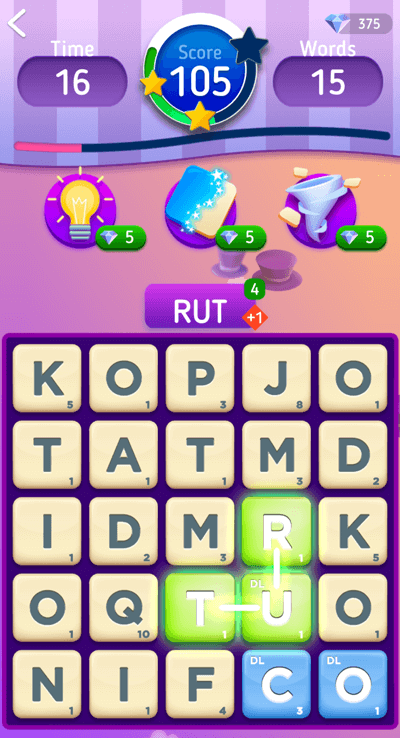 The last tournament named, Tumbler, is a fast-paced word finding game. When it begins, you are given 6 letters to make a word out of by tapping on the tiles. Once, a word has been successfully created, more letters will drop down. The object is to find as many words as you can during the time limit to earn the biggest score.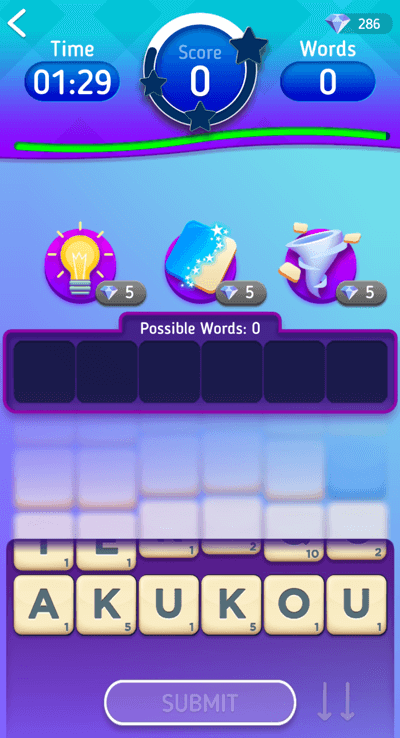 For each tournament game, there is a Star Meter that fills up when scoring points. In the meter, there are three Stars you can reach that unlocks a reward at the end of the round. Each game also allows Boosts to help you score bigger.
As of now, there are three Boosts available. The Hint Boost will find a word for you. The Upgrade boost will enhance two of your tiles to Premium Tiles. And the Vortex boost will clear all of the tiles in your rack.