What are Scrabble Go Tiles?
Tiles in Scrabble Go are a way to customize your tiles through tons of different designs. They are ranked in three rarities being Common, Rare, and Epic. Common tiles are easier to collect and are often the simplest version of Tile. The Epic tiles are the most difficult to obtain and are usually the most extravagant.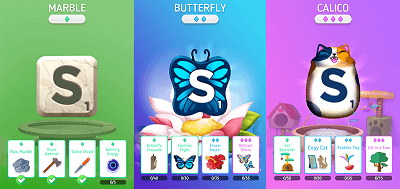 You will be able to see the front of your tiles when you are making a move in a game. They are displayed in your tile rack and when moving them on the board. However, when the word has been submitted they are reverted to the basic tile.
Your opponent also views your tiles when they are watching your word being placed on the board. The back of the tile is shown in your rack then the tiles that make up the word are flipped over and brought to the board. It is a fun way to express yourself and show off what tiles you have to your opponents.
Tiles can be created by collecting all of the required Tile Cards for the tile. Chests containing tiles can be earned from leveling up in the game, playing Duels, completing Scrabble Club challenges, and competing in Arena Tournaments.
To view which cards go with which tile you need to be in the Tiles Inventory. To go there, tap on the Tiles tab at the bottom of the Home screen. Then, tap on the Inventory button at the top right. There you will be able to see all of the available tiles.
When tapping on a tile, you can see which cards it takes to complete it and how to get those cards. Many Tile Cards come from specific chests. This is like how the Mint Chip, Neapolitan, Orange Sherbert, and Rocky Road tiles all come from Ice Cream chests. Other Tile Sets like the Ancient Egypt Collection can be earned from tournaments and Duels as well.